Siberian larch terrace board 
The length of product varies from 2 up to 6m 
The quality of decking is according to categories: AB. 
The humidity is 16-18% It is packed in the stretch wrap 
The decking from Siberian larch is an optimal material for arrangement of indoor areas, platforms for a holiday, swimming-pools, garden paths in the yard and etc.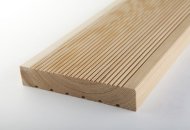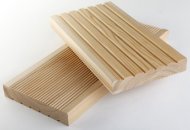 In consequence of special relief surface («antislip» or «velvet») on it, it is very difficult to slip down at the wet surface. More importantly, that the decking is weather resistant. The flooring from these decking is very useful, pleasant, and safe for a walking barefoot. Because of Siberian larch's peculiarity the decking doesn't dote and isn't afraid of temperature difference and moisture gradient.
The rich color palette, the safe surface and the strength properties had made the decking as good from among finishing material.
The laying of decking is made with screw bearings or larch's rim board (the distance between logs must be no more 50cm).The fixation is made with special tacks, which are nailed into the rim board.
After the laying the decking can be used with after-treatment (the larch is very steady against rotting) or with oil and wax emulsions treatment. It will allow to change appearance of boards and to give to style of your terrace the individuality.