Volochaevskiy DOK LLC (The Trademark RUSSWOOD) manufactures and sells the produce of trim and sawn wood made from Siberian larch and other species of wood. The factory is located in the Kaliningrad Region. This is a high-quality production with the modern equipment by company WEINIG AG.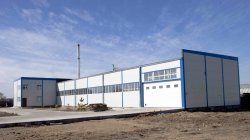 As primary products the wood growing in the Irkutsk Region and the Krasnoyarsk Territory is essentially used. The outfit of equipment allows making the following type of products: decking (terrace board), cladding (lining), flooring, block house, solid wood flooring and also wood trim according to draft of customer.
The manufacturable products are supplied to markets in Europe and Russia.