The possible profiles of lining «euro profile» and «calm profile» The length of aboard varies from 2 up to 4m The quality of lining is according to categories: AB. The humidity is 10-12% It is packed in the stretch wrap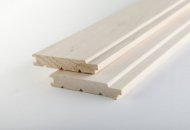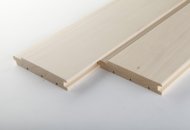 The cladding (lining) is oriented for in/out finishing works. This construction material is a decorative board made of solid wood.
The «euro/calm profile» linings are very similar by the form and application. The principal difference consists in a profile's cavity – flange, which is characterized for «Euro profile» lining. The lining «calm profile» hasn't in-depth place on the front face. The «calm» profile - one of the most popular types of building's covering.
At the factory is manufactured the cladding from Siberian larch, pine. The wall coverings from species of wood are also available. In the manufacturing process the lining is carefully dried up in the drying sections and processed with new equipment by company WEINIG AG.
The cladding from Siberian larch doesn't require additional treatment, however if desired, can give any shade and color it. The «euro profile» lining from larch is characterized by the high resistance to putrefaction, the insect attack and the longevity. A long scale of tones of larch wood and warm colors, create the comfort and the healthy natural atmosphere.